After one year, three hundred sixty-five days of posting a different self-shot image everyday, this project has come to its conclusion. To be transparent, I have many mixed feelings about coming to the end. In one sense, there is the relief of one less hard deadline to meet every single day. On the other hand I loved the challenge of finding something new to share every single day. Without a doubt, I've embraced and have established the daily practice of shooting a variety of subjects to challenge myself.
I think in the deep recesses of my brain that I originally imagined this daily shooting regiment like practicing to be a sharpshooter, similar to Clint Eastwood in the movie 'Unforgiven', spending hours perfecting the second nature ability to get the shot. The reality is that while there is much to that, being able to read the light and adjust the camera controls quickly to achieve the look that I imagined is a product of that practice. The additional byproduct of that daily practice that I wasn't expecting was, over time the different creative options that I'd come up with for each shot, sometimes like a creative blizzard, each thought like a snowflake different from the others. For those of us in the business of Creativity On Demand one of those fears is reaching down to meet a client's needs only to find that the creative well is dry, even if it's only temporary. For me, that fear has been greatly reduced because now I know that I can… I've done it, everyday for a year, and if necessary, I know I can do it again without the fear of a dry well.
Of course, my style continues to evolve, and I've had wonderful opportunities to meet people that I otherwise would have simply passed by. Intellectually, I always knew that meeting new people would enrich me, but when you actually introduce yourself to a total stranger and ask them to make their portrait, the conversations that develop are unlike any other meeting that you can ever have.
Lastly, I know that I've exposed myself quite a bit throughout the past year. I don't believe it's as obvious to others as it is to me, however we reveal a little about our inner-selves in the images that we make and the images that we like. Half way through the project, I posted the 'Ten Things You Might Not Have Known About Al'; maybe years from now some student will study this project and come up with at least 10 more that weren't written.
Thanks to everyone that looked at this project, either as a passing observer or a dedicated study. A few of you have shared that you appreciated, enjoyed and were even inspired by this project.  To all of you I encourage you to pay if forward. Yesterday was to conclusion of the project, but not the end to my photography. I will continue to shoot for my clients and for myself, with many images shared here for all to enjoy.
I'm wishing everyone a wonderful 2015, take care, be well, and I'll see you around…. so smile!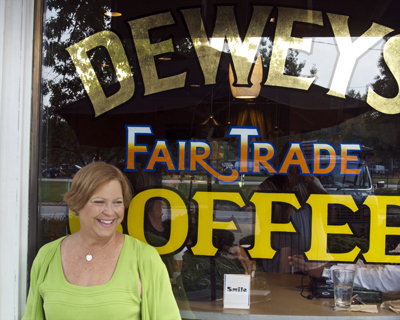 When I asked my friend Susie Sharp if she would be the subject of my first blog entry, I was surprised at the enthusiasm with which she said yes.  I'm sure if I had stopped and thought about it I shouldn't have been shocked since that's Susie's nature, "being in the mix," as the jazz musicians say.  After all, we are talking about Cleveland's Queen of Social Media, should anything less be expected?  Since she said yes I gathered my camera and digital recorder to learn how the self-described little, gawky girl, with thick coke-bottle glasses, from Shaker Heights became the woman that knows everyone and everyone else wants to know.
I was already settled into my spot in the coffeehouse as Susie walks in for our meeting being treated as if she were the Mayor, getting hugs from the baristas along with smiles and waves from the other customers.  She strolls over to my table looking as comfortable and unassuming as if she was walking through her living room; Susie is at home wherever she goes in Cleveland.  After a warm hug we sit and she immediately begins to update me on the event she just finished, The Mid West Reggae Fest.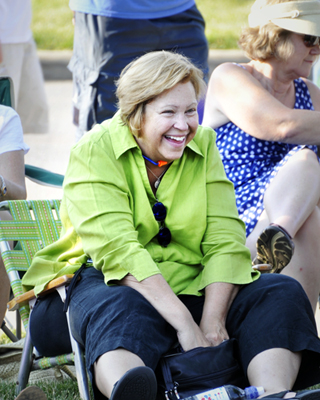 "I can still kick the butts of any two twenty-eight year olds and I kicked them soundly this weekend,"  a boast that isn't hard to accept from a grinning short haired, radiant blond looking refreshed after a weekend of promotion, camping and music.  It was more than just fun, Susie worked along with promoters of the weekend Reggae Festival to spread the word online and help build attendance, both a success.
The Reggae Festival was an easy connection for her, rhythm and music are obvious parts of Susie's make-up.  Wherever live music is performed, look around for the party because that's were you'll find her, in the center of it all.  When asked where did this love of music come from, with great delight she shares stories about Gordon Sharp whom she reverently refers to as "Daddy".  More than once at the end of the evenings show at Cleveland's renowned Theatrical Grill or Nighttown Restaurant "Daddy" would invite jazz bands and their entourage back to the Sharps' living room where they'd play 'til dawn right underneath a young Susie's bedroom.
It's was "Daddy" who Susie also credits for her becoming a "people person" as well.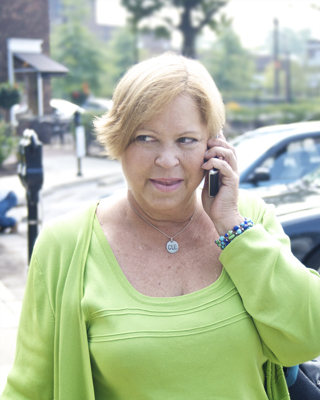 "We had a family business in blue- printing.  My grandfather  hired many people who were disabled physically or mentally; he was a big proponent of that.   When Daddy lost his arm at 25, that fell into the mix, so I grew up among people with different abilities and I never knew the difference.  Daddy raised me, partially because he grew up as a musician, that the guy that takes your suitcase at the hotel gets just as much respect, gets looked in the eye, get's a handshake just like the President of a company."
Those early lessons, taught to a young girl by her Dad, were the seeds that became Cleveland's Queen of Social Media. Reaching out to people and becoming an early adopter of networking sites like LinkedIn, Susie found a tool to help workers to find jobs.  Using her instincts and ignoring the warnings that online networking was a fad that would fade in a few short months, Susie jumped into social media with both feet.  From that modest start Susie has created her own company, Social Zense Media, where she lectures and coaches others how to use social media tools to further their personal and organizational goals.
With all of her experiences, Susie understands that her strength is not as the head of a company or in musical terms the band leader.  Instead she sees herself as the first chair, the one that keeps the rest of the band in key, on time and in rhythm.
"Sooner or later in business you find yourself getting away from what you love, the thing that you went into business to do.  That's were I'm good; I'm a good #2.  Sometimes the boss might want to take a break or go on vacation and I'm there to fill in."
Susie never mentioned about taking a break herself, perhaps because she's doesn't need one, since being busy is what she loves.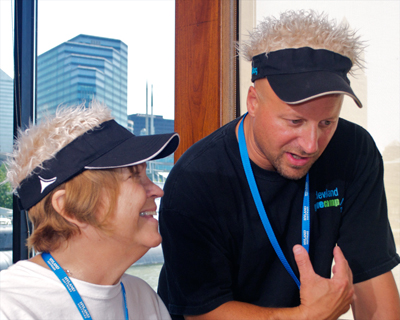 Beat diabetes
Diabetes diet
WordPress SEO