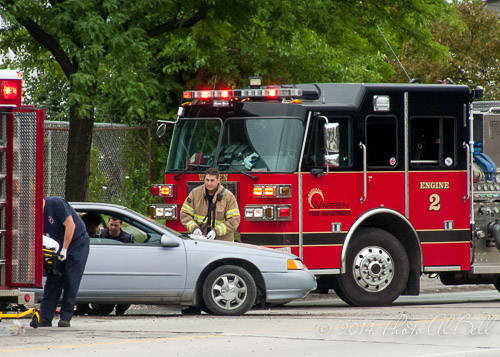 Lumix DMC-FZ28, ISO 400, 48.6mm, f/3.7, 1/640 sec
"My charity is in the business of helping firefighters in any way that we can. For instance, after 9/11 we were the second-fastest charity to raise and distribute money to the widows and surviving family members of the 343 firefighters who died that day." ~ Denis Leary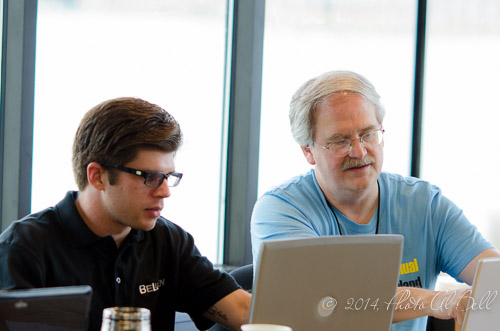 Nikon D7000, ISO1100, 135.0mm, f/4.0, 1/250 sec
Today was the end of Cleveland GiveCamp, 2014 version.  At the end more than 200 volunteers donated their time and talent valued in excess of a half million dollars to help 21 non-profits achieve their goals.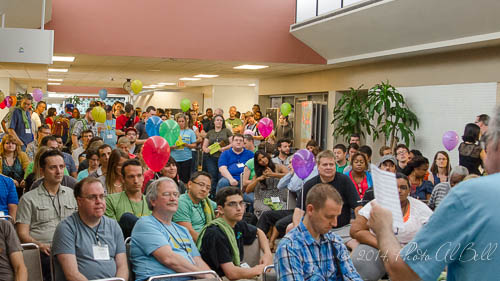 Nikon D7000, ISO3200, 28.0mm, f/3.3, 1/60 sec
Borrowing from the Cleveland GiveCamp website.
GiveCamp is a weekend-long event where software developers, designers, database administrators, project managers and creative professionals donate their time to create software and web-based applications for non-profit organizations. The event takes place at the LeanDog Boat (former Hornblowers) and Burke Lakefront Airport on the shores of Lake Erie.
The event is entirely volunteer-driven and some of the volunteers take the "camp" part of GiveCamp literally, pitching tents and staying all weekend. Great meals are provided and there are many opportunities to network with professionals from around the region. Overall, it's a great opportunity for people to work together, develop new friendships, and do something important for the community.
There are a variety of projects completed during GiveCamp weekend. The only limitation is that the project should be scoped to be able to be completed in a weekend. All source code must be turned over to the nonprofits at the end of the weekend (developers cannot ask for payment) and the nonprofits are responsible for maintaining the code moving forward.
Some of our past projects have included:
Data-collection applications to keep track of members or clients
Websites to communicate with stakeholders and constituents
Mobile phone applications
Mobile websites
The first Cleveland GiveCamp took place in 2010 with more than 100 volunteers, 21 nonprofits and nearly $250,000 worth of work donated during the course of the weekend. It was the largest first-time GiveCamp in the country and has grown to include more than 200 volunteers, 25 nonprofits and $625,000 in free development work in 2012.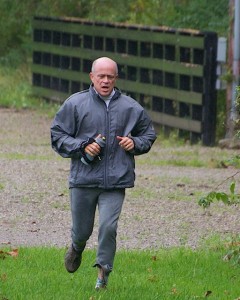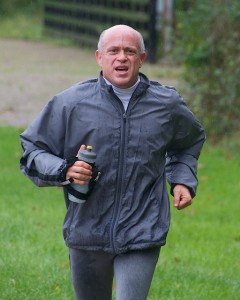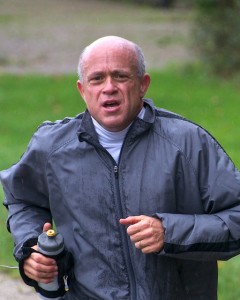 The race that we now call a Marathon traces its origins to the Greek messenger Phidippides.  Legend has it, after the monumental run between the Greek cities of Athens and Sparta and then back to Athens, (about 140 miles each way). Phidippides immediately marched with the Athenian army to fight off the invading Persians on the fields of Marathon, just outside of Athens.  After aiding his fellow Athenians win the battle, Phidippides then ran home, ahead of the victorious army to announce Nenikékamen, "We have won", then died on the spot from exhaustion.  The twenty-six miles, three hundred eighty-five yards, that make up the modern-day marathon celebrates not only the victory run of Phidippides but the devotion to service of all his heroic runs.
Phidippides serves as an example of a higher call to service for his city as a messenger and a soldier.  Kevin Goodman, Director of Business Development for BlueBridge Networks feels a similar call to service to his community as a different kind of warrior.
It was in 2005 that Kevin was declared to be in remission from lymphoma, a cancer that strikes the lymph nodes and affecting the immune system.  While undergoing treatment for cancer Kevin came across a Team In Training brochure in the library of his treatment center.  Team In Training is a group that helps with fundraising and training for endurance sports.  In exchange for training and support, participants raise funds for the cure of Leukemia and Lymphoma.  Since 2008, over 360,000 volunteers with Team In Training have raised more than, $850 million for the Leukemia and Lymphoma Society.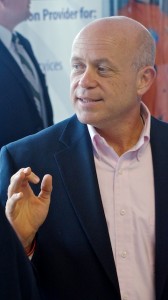 Chances are many overlooked that Team In Training pamphlet but Kevin gained the inspiration to begin a personal quest of fulfillment and gratitude.  Like the mythological heroes before him, Kevin's quest would take him away from his home and requiring him to overcome numerous obstacles, to achieve an ultimate and rewarding goal.  After waging his personal battle against cancer, Kevin joined the global war against the disease that tried to take him away from his family.  With the purposefulness of Phidippides, Kevin runs distances from 5K to full marathons to raise awareness and carry his message of hope to those with cancer.  The ultimate intent for Kevin's quest are both philanthropic and personal.  Honoring a personal commitment that he made while undergoing treatment, Kevin pledged to raise $100,000 for cancer and other causes in which he believes.  He hopes to hit the monetary mark at the same time he reaches his ambition as a distance runner by running in the Boston Marathon.
"In the last hailstorm and wind, I had the fortune to run up and down Fairmount Boulevard, among the mighty oaks and the old mansions.  I'm out there running with just shorts and shoes and I'm getting pelted with hail and rain.  It took me back to a place of sitting in a chair receiving chemo or an excision had taken out a piece or part of my body that was cancerous… or worst yet the biopsies or bone marrow treatments.  The pelting and the stings of those hail stones… quarter size some of them, the stings took me back to… that treatment.  Gratitude yes… painful yes… the contrast to that, why I'm out there running, ten o'clock at night, in this storm, is for others and gratitude that I've been spared."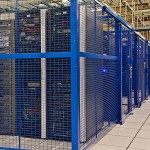 With an incomparable blend of self-help guru, evangelist, coach and mythic hero, Kevin sings the mantra of showing up, ready to deal with whatever challenges that are in front of one's goals.  It's the  principle he applies to being a husband and father to his two children, in the role with BlueBridge Networks and as a distance runner.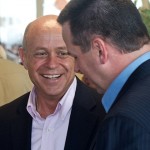 With total commitment Kevin preaches the idea that the smallest effort or gift can make the biggest difference to someone else's day, week or year.
"People can say whatever they'd like about me, but what they can't say is that he [I], don't love and I don't serve!"
By his own accounting, Kevin says he has raise more than $83,000 running, biking and swimming to date.  In October 2011, Kevin qualified for the Boston Marathon with a time of three hours, twelve minutes and fifty-six seconds in the Towpath Marathon in Ohio.  Kevin met his personal milestone as a runner with qualifying for the Boston Marathon and now works to reach his monetary goal of raising $100K.  Already with an eye towards his next goal, Kevin plans to semi-retire from longer distances and become the best 5K runner he can be while coaching and inspiring others to give of themselves for a greater good.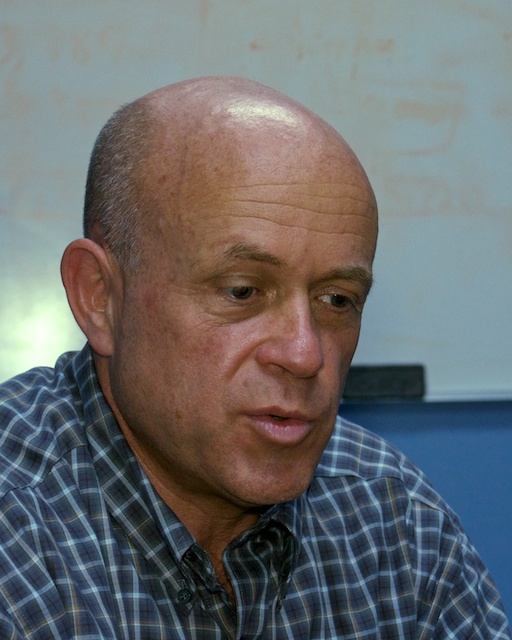 Beat diabetes
Diabetes diet
WordPress SEO